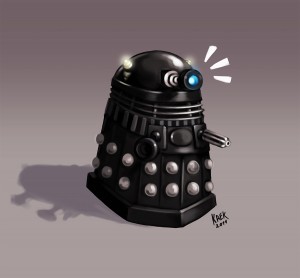 My name is Sarah Honeychurch.  I'm a philosopher (I have a BA and a Masters from the university of Southampton), a Doctor Who lover (I've written a chapter on Dalek Ethics with my husband, Niall Barr, a knitter and an anarchist (I don't go around blowing up parliaments, I am just against the over-arching authority of the state – but it's complicated).
I work in the Learning Enhancement and academic Development Service and tutor in Philosophy at the University of Glasgow and I'm studying for a part time PhD in online peer interaction.
I enjoy mixing and remixing digital media, especially in communities such as #CLMooc and #DS106
I say something about the name of my blog here.
My blog is shared under a CC-BY-SA-NC licence, meaning that anybody is free to use my words. But, if you are a researcher, I'd appreciate you letting me know that you are doing so. I'm easy to find on Twitter.
Tiny Winy Dalek by Kaek